1
How to use our extension
Google Meet Party Button
Welcome to Google Meet Party Button
---
Thank you for installing and using our extension
---
Features:
Visual Effects for Google Meet
Tutorial:
Install the Extension
After installing the extension, click on the icon on the toolbar.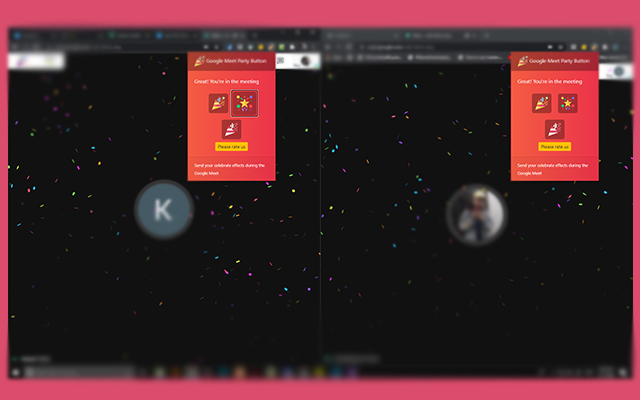 ---
Celebrate big wins during your Google Meet meetings.
Use this extension to have a party effect on the Google Meet screen when you wish to celebrate a major win such
as closing a contract/closing a new client etc.
With remote meetings, it can be hard to keep up team spirits due to social distancing etc.
Instead of having happy hour at the pub to celebrate, use our Party button instead to celebrate major wins.
To begin using the extension, please install our extension.
Go to the Google Meet meeting and begin your call.

Click on the extension icon to activate our extension code. The party button will only appear when you click on the extension icon at the top right corner. The main reason for this => it helps protect user privacy as our code only runs when you press on the Google Meet Party extension icon.

Use the confetti effect by clicking on the extension icon.